Whats on your nightstand?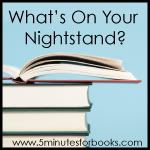 I found this blog,
5 minutes
for books
and I love it! They have a section called whats on your nightstand? right now I am reading,
Wuthering
Heigths
, because I just got done reading the first 3 books of the Twilight series, and the main character Bella is always quoting it so I now have to read it so I know what the heck she is talking about! The other 2, Recipes from the Dump by Abigail Stone and High Noon by Nora Roberts, I just picked up on our last trip to the library. L is reading (when she gets the chance) Stolen Innocence by Elissa Wall. H is reading a book called "dear diary, lets pretend this never
happened
" she got the first 3 books of the series she also started reading mysteries. So now that you know whats on our nightstands, desk, end table and locker at work whats on yours?